Object Details
Description

A blue full body flight suit worn by Charles F. Bolden Jr. The suit zippers in the front and has several pockets and patches on it. The front of the suit has three patches on the chest. On the PR breast is the mission patch for STS 61C and features a circular design with an image of the space shuttle and a band displaying the names of the mission's astronauts. On the PR breast is a circular NASA logo patch, above which is a leather nametag reading [CHARLES BOLDEN / MAJOR USMC]. The nametag is a dark leather with golden text and pilot's insignia. On the PR shoulder is a circular patch for the 1980 NASA Astronaut Groups 9, which features the year and a space shuttle launching with nineteen white stars. The PL shoulder has an American flag patch. There are Velcro straps at the waist and zippered sections on the arms and legs for adjustments. The legs have a number of zippered pockets. A manufacturer's tag with handwritten details is sewn to the inside of the suit.
Date

1986
Manufactured by

Gibson & Barnes, American, founded 1977

Worn by

Maj. Gen. Charles F. Bolden Jr., American, born 1946

Issued by

National Aeronautics and Space Administration, American, founded 1958
Place made

El Cajon, San Diego County, California, United States, North and Central America
Topic

African American
Aeronautics
Clothing and dress
Military
Science
See more items in

National Museum of African American History and Culture Collection

Classification

Clothing-Costume
Clothing-Historical

On View

NMAAHC (1400 Constitution Ave NW), National Mall Location, Concourse, C 050
Credit Line

Collection of the Smithsonian National Museum of African American History and Culture, Gift of Maj. Gen. Charles F. Bolden Jr., USMC (Ret)
Data Source

National Museum of African American History and Culture
Object number

2014.243.4
Type

coveralls
uniforms
Restrictions & Rights

No Known Copyright Restrictions
Proper usage is the responsibility of the user.
Medium

cloth, metal, leather

Dimensions

On form: 57 1/2 × 16 3/4 × 9 in. (146.1 × 42.5 × 22.9 cm)
Record ID

nmaahc_2014.243.4
Metadata Usage

CC0
This image is in the public domain (free of copyright restrictions). You can copy, modify, and distribute this work without contacting the Smithsonian. For more information, visit the Smithsonian's
Open Access
page.
We also suggest that users:
Give attribution to the Smithsonian.
Contribute back any modifications or improvements.
Do not mislead others or misrepresent the datasets or its sources.
Be responsible.
International media Interoperability Framework
IIIF provides researchers rich metadata and media viewing options for comparison of works across cultural heritage collections. Visit the IIIF page to learn more.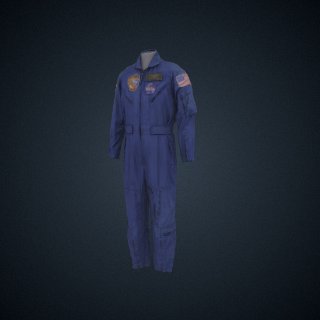 3D Model