Object Details
Caption

Digital heart rhythm monitoring was developed for the purpose of detecting heart rhythm abnormalities in heart attack patients by pioneering African American cardiologist L. Julian Haywood, M.D., and his associates. The technology was developed and first implemented in 1969 in the Coronary Care Unit at L.A. County General Hospital, the first such facility on the west coast, established by Dr. Haywood in 1966. The physical console and related software were developed on-site to Dr. Haywood's specifications.

Description

This is a prototype display console of a heart rhythm monitor, used in conjunction with a Control Data computer running software. The console is in the shape of a right trapezoid. The front panel is laminated wood comprised of metal and plastic buttons, switches, and dials. The top right is made of four switches with a black toggles in the center. Beneath the switches are columns labeled [CH1], [CH2], [CH3], and [CH4]. On the left of the columns are two black push buttons labeled [START] and [STOP]. In the columns are green, orange, red, and clear lights, black plastic and metal push buttons. The lights are labeled on the right, green: [MONITOR], orange: [EVENT], red: [ALARM], clear: [SELECTED], and black buttons: [SELECT]. This area is encompassed by a black line and three vertical black lines. To the right, are three black metal and plastic push buttons that read, [CLEAR], [DISPLAY], and [PLOT ON/OFF]. To the right, is a black switch labeled [DATA], and a metal key hole. On the right of the panel, is another black lined box with four columns and three rows. Each row is made up of a black push button and four black dials that go from 1-10. The rows are named, [EVENTS/MIN], [SENSITIVITY], and [RR INTERVAL]. The columns are labeled at the bottom, [CH 1], [CH 2], [CH 3], and [CH 4]. There are small pieces of brown tape and residue of tape throughout. The rest of the object is covered with a darker color laminated wood than the front panel. On the right side of the panel, a text printed on a white sticker in red reads [PATENT EQUIPTION INSPECTION / Control No. / Due Date / Tested By / CLINICAL ENGINEERING / LAC, USC Medical Center / EXT. 5053]. Written diagonally covering the red text is [O/S] in black marker. The back of the prototype machine is plain wood opening panel connected by a metal hinge. A large amount of medical tape is covering a bump on the back of the wood. A circular opening in the center is used to lift the wood panel. Housed within the internal compartment are large and small computer chips with multiple connecting wires, metals pieces, and batteries. Three long grey wires come out of the back of the prototype through a cut out in the wooden panel on the bottom left. One of the long wires ends in a dual internal angle connector. The end plug is wrapped in white medical tape. The next wire has a black switch in the center with a [ON / OFF] switch and ends in a large metal connector plug. The third longest cable has a plug connection to an outlet.
Date

1966-1969
Created by

L. Julian Haywood, M.D., American, 1927 - 2020

Manufactured by

George A. Harvey, American
William L. Kirk Jr., American
Place made

Los Angeles, California, United States, North and Central America
Topic

African American
Health
Medicine
Science
Technology
See more items in

National Museum of African American History and Culture Collection

Classification

Tools and Equipment-Medical
Credit Line

Collection of the Smithsonian National Museum of African American History and Culture, Gift of L. Julian Haywood, M.D.
Data Source

National Museum of African American History and Culture
Object number

2017.42
Type

monitors (data processing equipment)
Restrictions & Rights

No Known Copyright Restrictions
Proper usage is the responsibility of the user.
Medium

wood, plastic, metal, silicon, electric conductor, glass and adhesive

Dimensions

H x W x D: 8 × 23 × 15 in. (20.3 × 58.4 × 38.1 cm)
H x W x D (With Cord): 8 × 41 3/4 × 15 in. (20.3 × 106.1 × 38.1 cm)
Record ID

nmaahc_2017.42
Metadata Usage

CC0
This image is in the public domain (free of copyright restrictions). You can copy, modify, and distribute this work without contacting the Smithsonian. For more information, visit the Smithsonian's
Open Access
page.
We also suggest that users:
Give attribution to the Smithsonian.
Contribute back any modifications or improvements.
Do not mislead others or misrepresent the datasets or its sources.
Be responsible.
International media Interoperability Framework
IIIF provides researchers rich metadata and media viewing options for comparison of works across cultural heritage collections. Visit the IIIF page to learn more.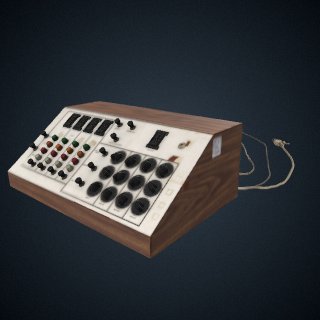 3D Model