Object Details
Description (Brief)

Althea Gibson (1927-2003) wore this tennis outfit while winning the woman's singles title at Wimbeldon in 1957. In the match she defeated fellow American Darlene Heard.
Gibson was the first African-American to play in, and win, Wimbledon. She hoisted the prestigous event's silver trophy twice, in 1957 and 1958. She was also the first black woman to play in the U.S. Tennis Championships (1950) win the U.S. Open, and complete a Grand-Slam. Gibson also broke the color barrier in professional golf when she joined the LPGA in 1964.
date made

1957
user

Gibson, Althea
subject

Tennis
Sports
Professional
Women
African American
See more items in

Culture and the Arts: Sport and Leisure
Highlights from the Culture and the Arts Collection
Credit Line

Gift of Althea Gibson
Data Source

National Museum of American History
ID Number

1988.0260.07

accession number

1988.0260

catalog number

1988.0260.07
Object Name

outfit, tennis
Physical Description

cotton (overall material)
linen (overall material)

Measurements

overall: 32 in x 18 in; 81.28 cm x 45.72 cm
overall, mounted: 32 in x 15 in x 11 1/2 in; 81.28 cm x 38.1 cm x 29.21 cm
Record ID

nmah_748878
Metadata Usage

CC0
There are restrictions for re-using this image. For more information, visit the Smithsonian's
Terms of Use
page .
These files consist of 3D scans of historical objects in the collections of the Smithsonian and may be downloaded by you only for non-commercial, educational, and personal uses subject to this disclaimer (https://3d.si.edu/disclaimer) and in accordance with the Terms of Use (https://3d.si.edu/termsofuse).
International media Interoperability Framework
IIIF provides researchers rich metadata and media viewing options for comparison of works across cultural heritage collections. Visit the IIIF page to learn more.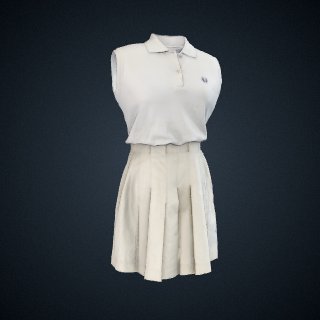 3D Model