Object Details
Description (Brief)

Red Nike sleeveless half jersey has a dark blue "USA" sticker affixed to the front of the jersey with an American flag on the left breast. The jersey has a racer back with holes cut into the back for ventilation. This jersey is autographed by Carmelita Jeter in gold on the front "Jeter / 10.64 100m / 40.12 WR" Carmelita wore this jersey during the win in the 400 meter relay race when the women won the gold medal at the 2012 London Summer Olympic games.
The 2012 Summer Olympics, also known as the Games of the XXX Olympiad were held in London, England with 204 countries, 5,992 men and 4,776 women athletes participating. With the inclusion of women's boxing, these Games became the first with female competitors in every sport and the first at which each country entered, had a female representative. Women's boxing debuted and mixed doubles in tennis was held for the first time since the 1924 Games. American Michael Phelps won his 22nd medal making him the most decorated Olympic athlete of all time. Every athlete to win a medal at these Games was drug tested and as of 2017, 31 medals had been rescinded due to doping. The United States won the medal count with 104.

Location

Currently not on view
date made

2012
user

Jeter, Carmelita

maker

Nike, Inc.
subject

Women
Track and Field
Olympics
Sports

related event

Olympic Summer Games: London, 2012
See more items in

Culture and the Arts: Sport and Leisure
Data Source

National Museum of American History
ID Number

2012.0235.01

accession number

2012.0235

catalog number

2012.0235.01
Object Name

track jersey
jersey, track
track jersey, olympics
Physical Description

fabric, polyester (overall material)

Measurements

overall: 14 in x 13 in; 35.56 cm x 33.02 cm
Record ID

nmah_1442917
Metadata Usage

CC0
There are restrictions for re-using this image. For more information, visit the Smithsonian's
Terms of Use
page .
These files consist of 3D scans of historical objects in the collections of the Smithsonian and may be downloaded by you only for non-commercial, educational, and personal uses subject to this disclaimer (https://3d.si.edu/disclaimer) and in accordance with the Terms of Use (https://3d.si.edu/termsofuse).
International media Interoperability Framework
IIIF provides researchers rich metadata and media viewing options for comparison of works across cultural heritage collections. Visit the IIIF page to learn more.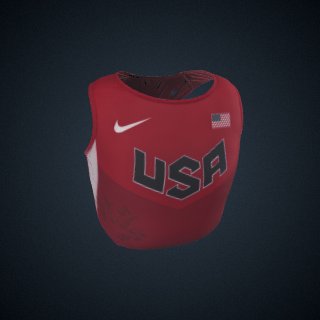 3D Model